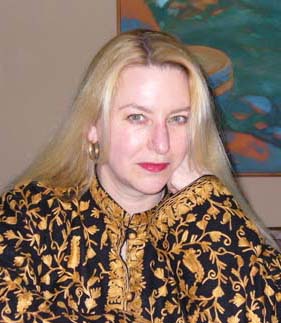 Robin Ireland
The relationship between an author and an editor is an intimate one, wilth the editor acting as a midwife and/or coach. That you need an editor in some capacity is a given, but it must be the right one for your style and material.
"Writing is easy; all you have to do is sit staring at a blank piece of paper until drops of blood form on your forehead,"
--Gene Fowler
Ireland, Robin Small
May 7, 1954 - January 9, 2008

Robin Kathleen Small Ireland, 53, of Bellingham has transcended to the next plateau. She found an end to her suffering from uterine cancer on Wednesday, January 9, 2008, surrounded by a few of her nearest and dearest.

Robin was born on May 7, 1954, to Clyde and Carol Small in Ukiah, California. After living a few years abroad, while her father was in the Foreign Service, the family returned to Ukiah. They then moved to Sacramento before finally settling in Redding, Ca., where Robin graduated from Enterprise High School in 1972. She attended Oregon State University, graduating in 1979 with a degree in International Relations.

She relocated to Portland, Oregon, where she met and married Michael Ireland, who was an artist. They made Bellingham, WA their home in the early 1990's, finding joy in the natural beauty of the area and its environs. After working for a time at the Industrial Credit Union in Marketing and then serving as editor for the Sudden Valley Views, she started her own business as a writer and editor.

But to those of us who knew her, her most important work was in making the world a better place by exemplifying what it is to live from spirit, from the heart. She has impacted so many with her intelligence, wisdom, insight, creativity, love, and understanding. She "fanned the spark of intuition" to develop into the kind of human being by whom we felt privileged to be loved and better for knowing.

Robin was golden, from her long blond hair to her jewelry to her signature toenail polish, and she maintained a gold standard in friendship and service. Her far-flung web of connections eternally amazed her friends, who were always discovering yet one more person Robin was caring for and advising, on her path as a healer and life coach. Her insights were good as gold for many of us. A woman of words, Robin wrote extensive journals and a popular online "walkabout" of her geographical, artistic, and spiritual explorations.

She loved to laugh, sharing her warmth and keen wit with the world, and considered herself a citizen of the universe. Robin is now free to carry her dauntless spirit into those broader realms.

For more about Robin, http://goldenearrings.blogspot.com

Her soul has reunited with that of her beloved husband, who died of injuries sustained in a fall in September of 2000. She is also preceded in death by her mother.

She is survived by her family in California: father, Clyde Small, of Red Bluff, sisters Linda Small of Sacramento, Cathy Small of Red Bluff, and Gail Perkins of Shasta Lake, brother, Scott Small, of Redding and niece, Valerie Celeste, of Shasta Lake. She will be cremated by Jerns Funeral Chapel in Bellingham.

A Celebration of Life was held at her home in Sudden Valley on Saturday, January 19. A ceremony for the spreading of her ashes will be set for a later date. In lieu of flowers, donations may be made to Whatcom Hospice, to whom we are so grateful.

Click here to contact their estate manager for information.